Spring for Support 5K and Family Fun Day
RETURNING IN THE FALL - 2019
Duke University's East Campus in Durham, NC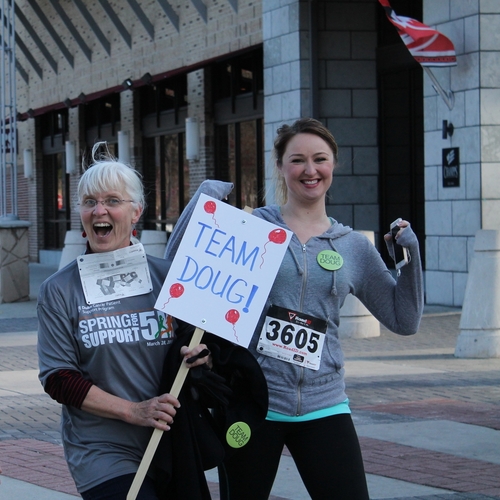 Spring for Support 5K and Family Fun Day is an annual event that raises funding to provide support services offered by Duke Cancer Patient Support Program to Duke cancer patients and their families at no cost.
This event features a timed and untimed 5K, but this year we will be adding family fun crafts and games throughout the day including a special performance from the Bouncing Bulldogs. We will have face painters, balloon sculptors, a costume making station and even some Marvel Comic superheroes. The tradition of the Foolishly Family Fun Obstacle Course will also continue and it will be complete with prizes for participation.
Why should you participate in Spring for Support 5K and Family Fun Day?
A cancer diagnosis and treatment can be a difficult time for patients and their loved ones. Access to support services and resources can be a challenge. Duke Cancer Patient Support Program (DCPSP) aims to overcome this barrier. DCPSP provides services throughout the cancer experience — from suspicion of a cancer diagnosis through the time of diagnosis, treatment, recovery, and survival, as well as through the circumstances surrounding end of life.
Services include: Individual, couple, and family therapy, support groups, self-image resources, pet therapy, child-life services, recreational therapy, and more. All support services are provided at no charge to patients and their families. DCPSP believes that quality comprehensive cancer care involves attending to issues beyond the scope of traditional models of medicine. They believe in treating the whole person, not solely the cancer. Further, they believe in treating the whole family, as cancer touches the lives of patients and their loved ones.
For more information, visit: dukehealth.org/cancersupport
"Our family is so excited to support the programs that have been so incredibly healing for us. Cancer treatment can be a very scary process and the support programs are a critical source of comfort for so many. Being able to give back to those programs is an honor for our family. The DCPSP is an amazing group of people who dedicate their lives to supporting the families of DCI patients. The 5k is a fun and meaningful opportunity to support their hard work and dedication."
Patient and Mom-Annie Oberstar
Help support cancer patients and their loved ones by registering today!
Donate:
Find a Participant or Team:
Top Donors
Clayton Homes
Novartis International
Holt Brothers Foundation
Neogenomics Laboratories
Weaver Brothers' Volvo