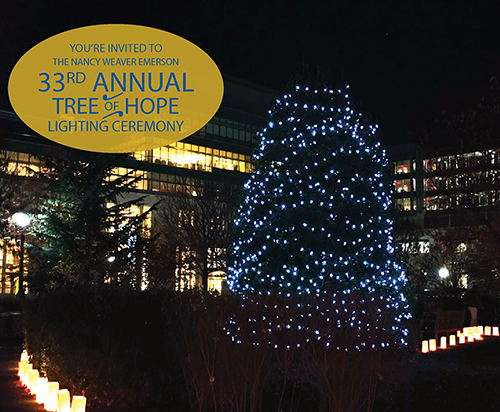 Thursday, December 1, 2022 marked the 32nd Annual Tree of Hope Celebration. This cherished Duke Cancer Institute event honors and remembers loved ones, patients, staff, family, and friends whose lives have been touched by cancer. The lights on the tree represent and illuminate HOPE that outshines the surrounding darkness.
The Tree of Hope lighting is a symbolic experience. It is time of reflection as we take a moment to honor and memorialize those who have faced cancer. It is a time to praise how far we have journeyed and to celebrate the strength and hope it has taken us to get where we are today. Together as a community of people who are connected to each other's journey; we support each other, learn from each other, and respect each other.
This connection is a value that led to the establishment of Duke Cancer Patient Support Program in 1987. Thirty-five years ago, Duke Cancer Institute made a commitment to support patients and their loved throughout their cancer journey. Duke Cancer Patient Support Program provides supportive care, from diagnosis, through treatment, and continuation of care into survivorship for patients and their loved ones—all at no cost thanks to the generosity of donors.
Click to view the 2022 Tree of Hope Lighting Ceremony.
You can still purchase
luminaries
or
tribute cards
in honor or memory of loved ones, patients, staff, family, and friends.
The electric luminaries will remain lit around the Tree of Hope at the Cancer Patient Support Program's Garden of Tranquility, located at Duke Cancer Center, through December 31. After your purchase, we will place the name of your honoree on the luminary.
All proceeds benefit the Duke Cancer Patient Support Program and will help us to continue our mission of providing support services to patients and their families at no cost.
Donate:
Find a Participant or Team: