Contact us
For questions and concerns, please contact the Duke Children's Office of Development Affairs at dukekids@duke.edu or 919-385-3137.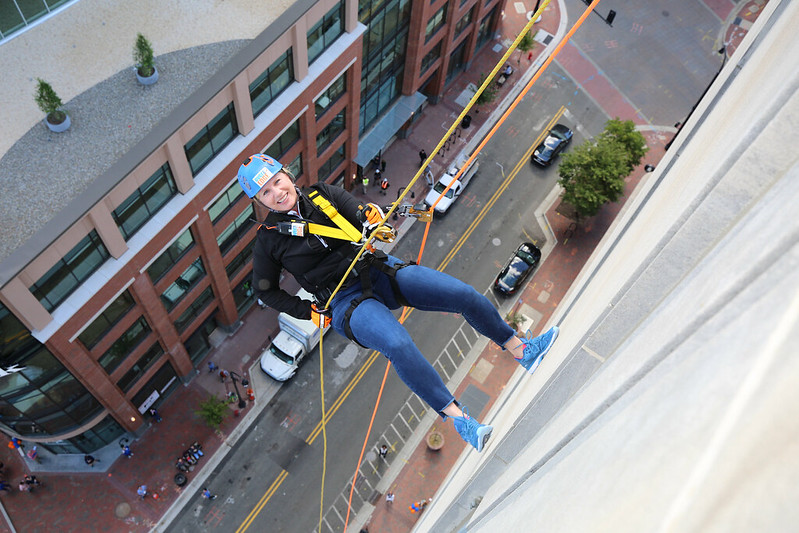 (Yes, we go Over the Edge for Duke Children's too! That's Assistant Vice President for Duke Cancer Institute and Duke Children's Development Amy Deshler in the photo, taking the leap for the kids!)
Please note:
All participants must be 18 years of age or older. All minors participating in the cheering zone must be accompanied by a parent or guardian.
In order to participate you must raise at least $1,000 or pay the difference by Sunday, October 10, 2021 at 11:59pm Eastern Standard Time. If the $1,000 minimum is not met, the funds are considered a direct donation to Duke Children's with no refunds being provided.
Edgers who have met the $1,000 fundraising minimum will be contacted upon meeting that goal to schedule their climbing time.
The Over the Edge experience can take between an hour and a half to two hours from registration to exit.
Duke Children's strongly encourages all event registrants to be fully vaccinated against COVID-19 prior to event participation. Masking guidelines and other COVID-19 precautions will be announced closer to the Over the Edge date and will follow Duke University and City of Durham guidelines. Public health conditions and guidance can change on short notice, and we will keep you updated on Duke's policies, which are listed on the university's Coronavirus Response webpage.
If you have any questions, please contact Amelia Howle at amelia.howle@duke.edu.