Registration is now closed
Registration is available on race day.
Race Date:
Saturday, April 7, 2018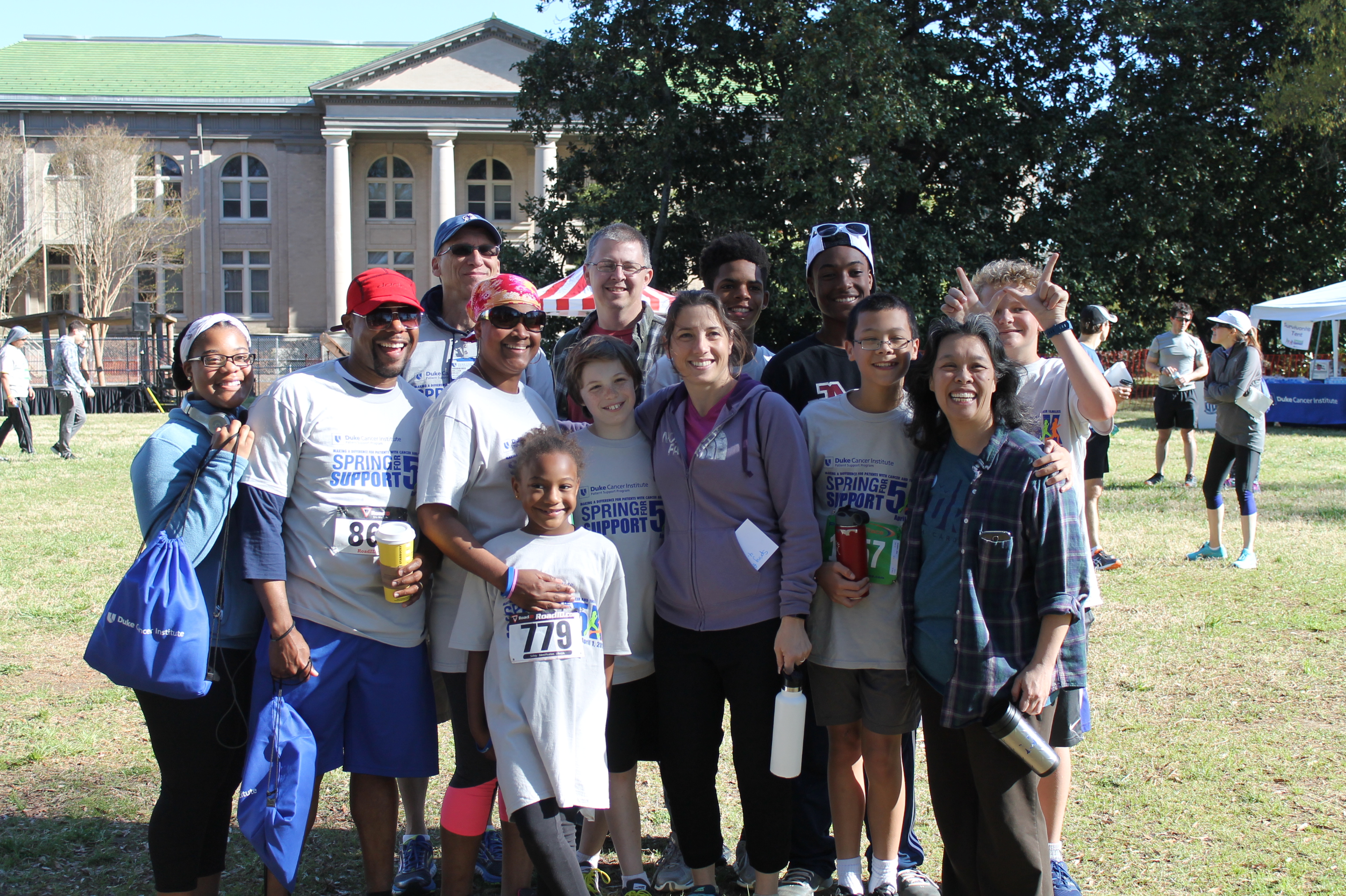 Registration: 8:00am
Timed Runners: 9:00am
Untimed Runners and Walkers: 9:10am
Family Fun Activities: 9:00am
Family Fun Obstacle Course: 11:00am
Lunch: 11:30am

Packet pick-up:
Thursday, April 5th from 1:00-4:00pm
Located at Duke Cancer Center
20 Duke Medicine Circle
Patient Resource Center
Friday, April 6th 4:00-6:00pm
Duke university's East Campus
off W Main Street and Campus Drive

Race Location: Duke University's East Campus off W Main Street and Campus Drive (1304 Campus Drive)

Race Day: Check-in begins at 8:00am. If you were unable to register or pick up your race packet prior to the day of the race, please do so as early as possible on race day. Timed runner line up is at 8:50am. Non-timed runners and walkers start line up immediately after timed runners take off. Non-timed runners and walkers begin at 9:10am.
Parking: Parking will be located at the Smith Warehouse off of Buchanan Blvd. Signage will be visible from Main Street and Buchanan Blvd. For handicapped parking, turn onto Campus Drive from Main Street and park on the left, following the signs.

Refreshments: Coffee and donuts will be offered at 8:00am. Water and fruit will be available to race and family fun day participants. Freddy's Frozen Custard and Steakburger is providing a light lunch at 11:30am.
Prizes:
Largest Individual Fundraiser: Catering Works Fall Culinary Adventure (4 tickets)
Largest Team Fundraiser: First Pitch Duke Baseball Experience with 15 Tickets to the Game
Fastest Male Runner: Signed Duke Football Poster
Fastest Female Runner: Signed Duke Football Poster
Individual with the Most Spirit: Downtown Durham Dinner and Theater Experience (2 Tickets to Waitress the Musical and a $50.00 Gift Card to any American Tobacco Restaurant)
Best Adult Costume: Derby Day at the University Club (4 tickets)
Best Kid Costume: Signed Coach Cutcliffe Nike Football
Weather: We're going to run and have fun rain or shine. Hope you will, too!
Contact us: If you have additional questions, please email us at cancersupport@duke.edu or call 919.684.4497.
For updates, follow us on Facebook (facebook.com/DukeCancerSupport/).

One last request…
Please convince others to register! We are on track to do way better than last year, but we need your help. Here are some suggestions of other people you can convince to join you: relatives, friends, neighbors, strangers, barista at Starbucks, long lost twin, Uncle Joey from Full House.
Looking forward to seeing you all on Saturday, April 7 — get ready to Spring for Support

Why should I participate in the Spring for Support 5K/Family Fun Day?
A cancer diagnosis and treatment can be a difficult time for patients and their loved ones. Access to support services and resources can be a challenge. Duke Cancer Patient Support Program (DCPSP) aims to overcome this barrier. DCPSP provides services throughout the cancer experience — from suspicion of a cancer diagnosis through the time of diagnosis, treatment, recovery, and survival, as well as through the circumstances surrounding end of life.
Services include: Individual, couple, and family therapy, support groups, self-image resources, pet therapy, child-life services, recreational therapy, and more. All support services are provided at no charge to patients and their families. The DCPSP believes that quality comprehensive cancer care involves attending to issues beyond the scope of traditional models of medicine. They believe in treating the whole person, not solely the cancer. Further, they believe in treating the whole family, as cancer touches the lives of patients and their loved ones.
For more information, visit: dukehealth.org/cancersupport

How can I help?
We are excited about the annual Spring for Support 5K and Family Fun Day and expect this event to grow with each passing year. We would greatly appreciate any donations (monetary or food, i.e., bottled water, bananas, apples, granola bars) in support this event. All donations are tax deductible. Of course, we also encourage you to participate in the race as individuals or as a team.