Registration is now open!
Be sure to register as a participant or volunteer by 01Mar2020 to ensure you get a shirt in your requested size.
Pre-Race Packet pick-up *Friday, 20March2020 from 4 to 6pm*
Help us reduce plastic waste! We'll have plastic bags available but please bring a reuseable bag if you have one.
Packet pick up will be at the race site this year! Northgate Mall, 1720 Guess Road, Durham, NC.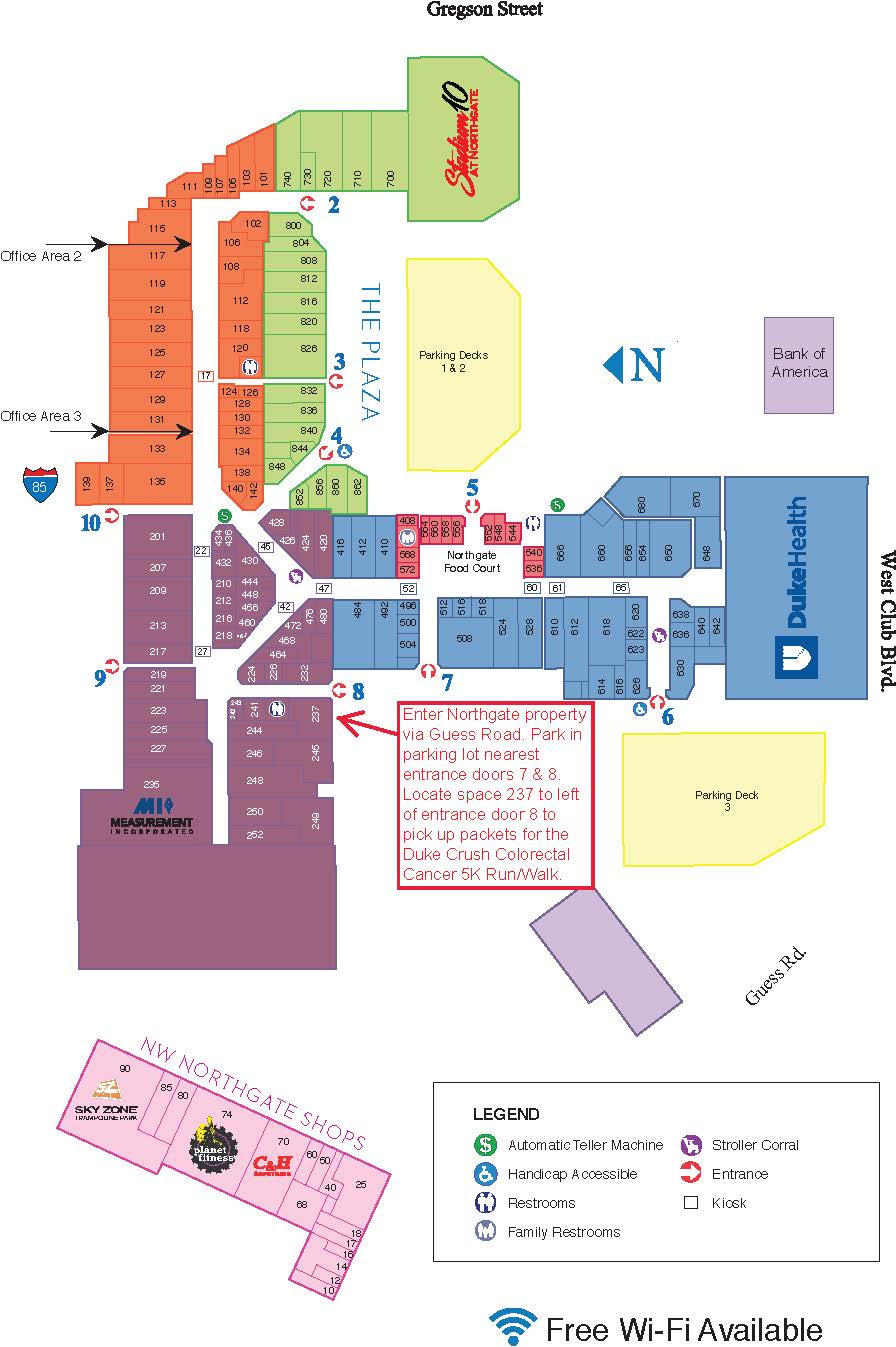 Please email us at crushcolorectalcancer@dm.duke.edu ahead of time if you would like to pick up the packets for your entire team and we will try to prepare them ahead of time.
2020 Course Map - the course is same as last year except that we've moved the pre/post race festivities to the parking lot in front of Planet Fitness and Sky Zone!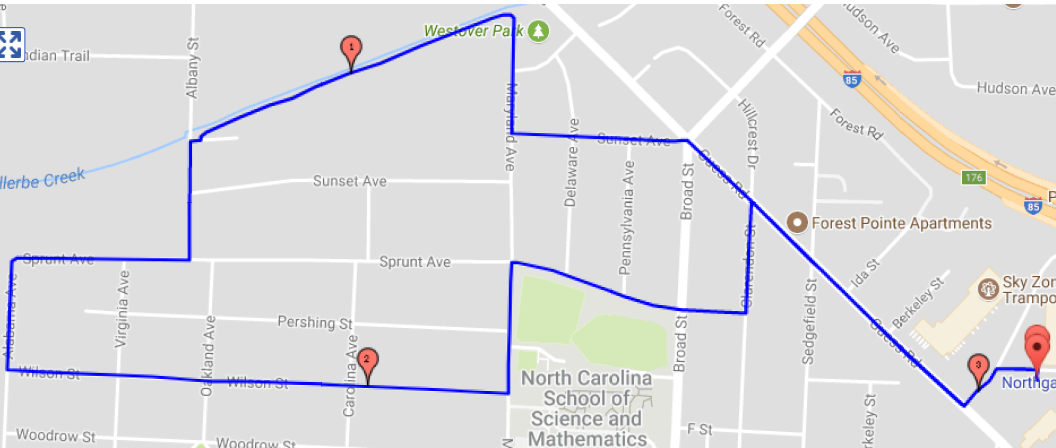 Tentative Race Day Schedule - Saturday, March 21, 2020
6:45 am - Registration opens (packet pickup and same day registration)
7:15am - Team Photos at the colon- Costumes and props welcomed and encouraged.
7:30am - Kids Activity Area open
7:45am - Same Day Registration/Packet pick up closes
7:50am - Line up at Start- Runners, then walkers, then stollers and dogs at the back
7:55am - Welcome and Thank Yous
8:00am - START of CRUSH 5K Run/Walk
9:15am - Top Runner Awards by age groups (will start just after last timed participant)
9:30am - Top Fundraising Awards
10:00am - End of street party
Race Location
Start and Finish at Northgate Mall, 1720 Guess Road, Durham, NC
Dogs and Strollers?
Yes and yes! Friendly dogs and happy babies definitely welcome, just line up behind the walkers at start of the event.
Parking
Free parking at the parking deck at Northgate Mall
Lodging
There are many nearby hotels are available for out of town participants. Check back for any discount specials.
Colons
As always, there will be a large one! Check it out, take a selfie, and learn about colorectal cancer.
Speaking of colons...
Porta-potties located at the event.
Teams
Forming or joining a team is a way to engage with family and friends for a common goal, coordinate fundraising efforts, and have fun! Special t-shirts, props (think poop emoji or anything Duke Blue - the color of colorectal cancer awareness), and costumes are absolutely allowed and are STRONGLY ENCOURAGED. Prizes will be given for Best Team Name and Best Dressed/Costumes!
We would love to take team photos before the race. Gather together with your team and then come over to the inflatable colon or stage for team photos before the race.
Also Stop By

Please also take a stroll through the Community, Duke, and Sponsor Exhibit area, and if you are a Colorectal Cancer survivor, please stop by the Survivors tent, all located between the Registration area and the Start/Finish Line. There will also be a Duke Research table where you can learn about ongoing research at Duke and how CRUSH has contributed to current projects.
Refreshments
We will have post-race snacks, but also consider enjoying the food court or other restaurants at Northgate Mall. We're doing our best to secure FOOD TRUCKS again this year!
Prizes
Prizes will be awarded immediately following the last timed runner with presentation to the following runners:
Top Male Overall
Top Female Overall
Top 3 Males/Females in each of the following age groups: 0-12, 13-29, 30-44, 45-up
Then we will acknowledge the top individual fundraiser, top fundraising team, best team name, and best dressed/costumes!
Weather
We're going to be there rain or shine. Hope you will, too!
Contact us
If you have additional questions, please email us at crushcolorectalcancer@dm.duke.edu
For updates, follow us on Facebook (Facebook.com/DukeCRC5K).
One last request…
Please encourage others to register! Each year has grown in participation and fundraising, and we need your help to make this year the best yet. Here are some suggestions of other people you can convince to join you: relatives, friends, neighbors, strangers, barista at Starbucks, long lost twin, Uncle Joey from Full House.
Looking forward to seeing you all on Saturday, March 21 — get ready to CRUSH it!
2017 CRUSHED IT! Over $100,000 Raised
Lets CRUSH Colorectal Cancer Video
Duke CRUSH 5K Youtube Channel with Patient Stories and 2016 Videos
How many people get colorectal cancer?
According to the American Cancer Society, colorectal cancer is one of the most common cancers in the United States. Every year over 140,000 people are diagnosed with colon or rectal cancer. Every year, over 50,000 die from this disease. Recent advances have significantly contributed to improving screening and treatment, and have resulted in a growing population of colorectal cancer survivors. We are making progress!
Who is organizing the race?
To raise community awareness and funds for colorectal cancer research at the Duke Cancer Institute, the Multidisciplinary Gastrointestinal (GI) Oncology Program is organizing the annual Duke Crush Colorectal Cancer 5K Run/Walk. Colorectal cancer remains an important public health concern and the DCI GI Oncology Multidisciplinary Program is committed to caring for patients with colorectal cancer and raising public awareness of colorectal cancer. The GI Oncology Multidisciplinary Program is actively engaged in basic science and clinical research that focuses on all aspects of this disease from prevention and early detection to innovative treatments and survivorship. To learn more about our program and our doctors, visit the Duke Cancer Institute website.
Why should I participate in the Duke Crush Colorectal Cancer 5K Run/Walk?
At the Duke Cancer Institute we are fighting this deadly yet preventable disease, and we need your help. All donations from the event will go towards funding colorectal cancer research. Not only will this race raise funds for research, it will bring our community together under the banner of colorectal cancer awareness. We hope to provide an important opportunity for patients, survivors, friends, and family members to come together for an important cause.
How can I help?
We are excited about the annual Duke Crush Colorectal Cancer 5K Run/Walk and expect this event to grow with each passing year. We would greatly appreciate any donations (monetary or food, i.e., bottled water, bananas, apples, granola bars) in support this event. All donations are tax deductible. Of course, we also encourage you to run the race as individuals or as a team.
We are always looking for sponsors and volunteers!