Within yoga, we find support, camaraderie, healing, joy, and peace. We come in all shapes and sizes, and all ages. Some are more newly diagnosed and others have been thriving for decades. Some of us are very active in yoga, and others are beginners.Many are local to North Carolina, but we've had women join us from around the globe. Everyone is welcome!
During the four-day retreat, a gifted group of teachers will lead you through a gentle yoga program that includes pranayamas, restorative poses, traditional hatha classes and meditation. All ages and levels of yoga students are encouraged to participate, from those who have never experienced yoga to those who practice yoga on a consistent basis. In addition to the yoga instruction, therapists of different modalities will be on site to offer expressive arts and individual counseling.

Retreat Location:
Nestled in the mountains of Western North Carolina, Montreat is a private, non-profit conference center with roots in the Presbyterian Church.
Montreat Conference Center
318 Georgia Terrace
Montreat, NC

Register by visting our REGISTRATION page.
A message from the Pink Ribbon Yoga founder: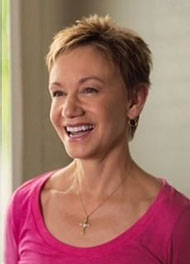 My name is Jean Costa, MSW, Certified Spiritual Counselor. I finished breast cancer treatment at Duke in 1999. Because of the kindness and support I received during my treatment from the Duke Cancer Patient Support Program, I joined their Advisory Board in 2000. I have practiced yoga for over 40 years and became a certified Kripalu Yoga Instructor in 2006.
Yoga is one of the many disciplines I use to center myself. It helps me practice staying in the moment and it has helped me stay in touch with my body while making me feel strong, physically and emotionally. With this in mind, I felt it would be the perfect vehicle for other breast cancer survivors. In 2005, along with several dedicated volunteers and Duke Cancer Patient Support program staff, we created our first beach yoga retreat for breast cancer survivors. It was in April, 2005 and 21 survivors attended. Since then, we've had hundreds of survivors attend.
If you have questions regarding the 2022 Pink Ribbon Yoga event, call 919.684.4497 or email cancersupport@duke.edu