Don't like heights? Make a donation!
Not a fan of heights, but still want to support Over the Edge for Duke Children's?
You do not have to rappel down 21c Museum Hotel in downtown Durham to support Duke Children's mission of providing world-class patient care, conducting groundbreaking medical research, and training the next general of physician-scientists and pediatric caretakers! For those who cannot attend the event (or don't want to rappel down a building!) but would like to honor their loved ones and raise funds in their community to help Duke Children's, you can make a donation today!
Your donations will go directly to support amazing patient care, research, and education at Duke Children's! Thank you for supporting kids like baby Emma, seen in the photo below with a portrait of herself when she was born. Emma was born prematurely at just 28-weeks-old, and she battled many complications during her 76-day stay at Duke Children's. Now, she is a healthy and curious toddler who is taking her first steps and exploring the world, thanks in part to supporters like you!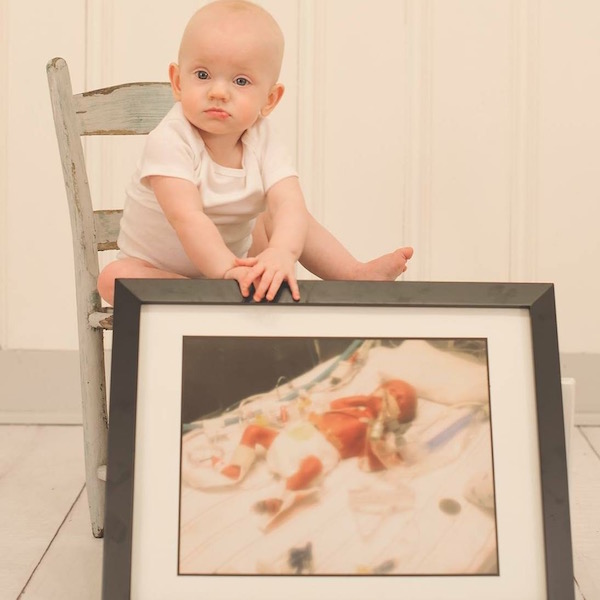 Make a Donation
Donate Online
Donate Via Check
Make checks payable to:
Duke Children's - Over the Edge
Mail checks to:
Duke Children's Development
Attention: Over the Edge
300 West Morgan Street, Suite 1200
Durham, NC 27701
Duke University is a 501C-3 organization.
The Federal ID number is 56-053-2129