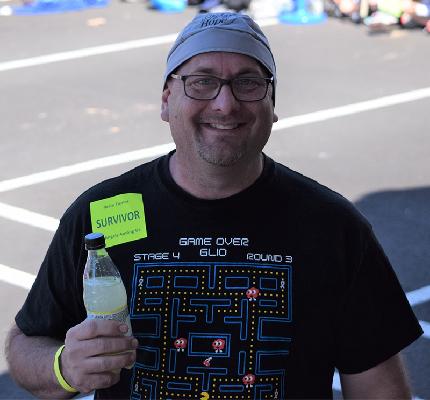 Frequently Asked Questions


Registration Questions (fees are per person)
I want to register my children, but they don't have email addresses.
Family registration is available. When you get to the last stage of the registration process, you will be asked if you would like to register another family member. Select "yes", and the registration process will continue without requiring additional email addresses. You cannot register additional members once you complete the payment section of the registration for yourself.
I signed up as an individual…may I now join a team?
Yes. Please contact us and provide your full name and the team you would like to join. Your information will be adjusted.
Does the registration cost count toward a team's total?
Yes. The full registration fee is credited to the team as long as you provide a team name. $15 of the registration fee is considered a charitable donation (tax deductible).
Can I register at the event?
Yes. You may register at the event, but it saves time if you register online by midnight, April 28th, or mail your form and payment by April 18.
Donation Questions
Is my personal information secure?
Blackbaud/Convio, the company that powers the Angels Among Us event registrations and donations, makes every effort to protect your personal contact and credit card information. They use industry-standard SSL encryption techniques to make sure your credit card information, passwords and personal information travel securely over the Internet.
Who do I make my check payable to?
Checks should be made payable to "Duke University - Angels." Mail your check donation to: The Tisch Brain Tumor Center, DUMC 3624, Durham, NC 27710, Attn: Angels Among Us.
How are credit card transactions handled?
Credit card information is not stored in our database. During the donation process, we send an individual's credit card information to an online processing terminal using a secure connection. The information passed back is an approval or denial for the credit card donation.
My friends mailed some donations, but I do not see them on my personal page. Why?
Due to the volume of checks we receive, it could take our staff up to 15 business days from the time they are mailed to post them on the website. It is extremely important for people to print the team name on the memo section of the check. Without the team name or participant name, we cannot guarantee the donation will be credited to the team or donor intended. Please contact us to have it credited to your personal page. Provide your full name, the donor's full name, and donation amount. Again, the recommended process is to write the name of the participant and/or team receiving credit on the memo section of the check.
I donated online, and I don't see my name listed on my friend's personal page.
You may have accidentally donated to the "Angels Among Us" general event and not to your friend's team. Only donations designated specifically to a team appear on that fundraising honor roll. Please contact us and we will credit the appropriate team.
Team and Participant Center Questions
How do I start a team?
From the home page click Form a New Team and follow the instructions for setting up your team.
Is there a minimum number of people required for a team?
No. You can be a team of one.
How do I change my personal fundraising goal?
First, login to your Participant Center. From your Participant Center, go to the top of the page under PROGRESS, then at My Goal click CHANGE to modify your personal fundraising goal.
What is a Team Page?
A Team Page is the web page people see when they visit your team home page. This is an online tool provided to the Team Captain to tell the team's story. Once you have registered as a Team Captain, you need to personalize this page with a picture or video and tell visitors about the person your team is honoring or remembering. Use this page to ask for team donations and to inform visitors of your goal. Don't forget to tell visitors and team members to also visit your Participant Page. Update this often to encourage enthusiasm about raising awareness and reaching your goal together.
How do I change my team goal?
Only the Team Captain has the ability to change the team goal. The Team Captain will need to login to his or her Participant Center to access this information. Once on the Participant Center Page, Team Captains can update the team goal by selecting PROGRESS at the top and TEAM (under PERSONAL) on the right side of the page.
How can I see who is on my team and how much we have raised?
To view your team roster, login to your Participant Center and click the "Progress" button at the top. Click TEAM on the right side under PERSONAL. This button allows you to view your team roster and the amounts raised by each team member. For a spreadsheet of your team roster, click DOWNLOAD TEAM DONATION LIST in the middle of the page.
How do I update the Team Page?
The Team Captain logs in to their Participant Center and clicks on the "Team Page" button at the top. Here he or she can access the team page to make updates.
What are Company Teams?
A company team is a great opportunity for companies to show their support for Angels Among Us. Company employees, clients, family, and friends can join the company team or create their own team under the company Team umbrella. Company teams provide a great opportunity to improve staff morale and create friendly competition, all in the name of a great cause.
May I start a team if I can't attend the event?
Yes. You do not have to be present at the Angels Among Us event to help Duke's brain tumor research program, click Form a New Team from the home page and register your team as an Absent Angel Team. Your donations will go directly to support exciting new research being done at the Preston Robert Tisch Brain Tumor Center. Every gift is important to the work being done at Duke.
Personal Page
What is a Personal Page?
Once you register, a personal page will be created for you by default. This web page is provided to every registered individual as an online tool for you to promote yourself as an individual on your team. A compelling personal page attracts and engages supporters and donations. By personalizing your participant page, you can spread the word of your commitment to fight against brain tumors. To personalize this web page, go to your Participant Center: from the HOME page, LOGIN at the top right corner. You can download images or a video, create new text, and pick the style and color of the page layout. See the Participant Guide for details.
Race Questions
Where do you check-in for the 5K Run?
At the 5K registration tent, located near the corner of Flowers Drive and Yearby Avenue. (See map)
Do runners receive awards?
Yes. Stay tuned for competitive age categories. All brain tumor patients who participate in the 5K receive an award and are recognized at the 5K ceremony.
If I am running the 5K, but I also want to walk in the Walk of HOPE, do I have to register for both?
No. You need only register for the 5K Run.
Can someone run the 5K with a dog, wheelchair, or stroller?
No pets are allowed. The only exception is for working service dogs. Runners with strollers or wheelchairs may participate in the 5K but will begin behind the competitive and recreational runners.
Can I walk the 5K?
If you choose to walk the 5K route, please note the Duke and Durham police can only keep the roads closed until the last 5K runner comes through (approx 1 hr 15 min). At that time you will need to walk on sidewalks and obey traffic laws for pedestrian safety.
General Questions
When can money be turned in for Angels?
Many teams have fundraisers year round, so money may be turned in anytime during the year. Credit will be given to teams as long as the team name is on the memo line of checks. Mail to: The Tisch Brain Tumor Center-Angels, DUMC Box 3624, Durham, NC 27710. Checks payable to Duke University-Angels. If you bring money to the event, please turn
Where do you check-in for the Walk of HOPE?
At the Registration Tent at the corner of Erwin Road and Flowers Drive. (See map) If you registered online, you do not need to check in. T-shirts can be picked up at the t-shirt tent.

Can I bring a dog to the event?
No. We are sorry but for safety reasons dogs are no longer allowed. The only exceptions are working service dogs. And, the Duke Gardens do not allow dogs from 10:00 AM to 5:00 PM.
Do I have to be a member of a team to attend the event?
No. However, you do need to register as an individual.
Is handicapped parking available?
Yes. Stay tuned for current parking information.
What is the Wall of Honor?
The Wall of Honor is a way to celebrate the lives of our patients. All are welcome to post pictures, stories, mementos, etc. to honor our survivors and those who fought a fearsome battle against brain cancer. At the end of the event, please remember to take your mementos home.
How do I change my Username or Password?
First, login to the site using the username and password from the previous year. Once logged in, you click the link at the top of the page called "Update My Profile." Update your contact information, e-mail address, preferences, username, and password; all changes will be made to your account immediately. There is no need to sign in again.
E-mail Questions
How do I upload my address book?
You will find step-by-step instructions within your Participant Center detailing how to upload your personal address book. After you have added your e-mail addresses, you may edit, add, or delete addresses at any time. Please know that these addresses are private and not shared.

How can I send and follow-up on e-mails to my friends, family, and colleagues?
You have access to message templates that are ready to use in your Participant Center. Use them to invite people to join your team, ask people to support you with a donation, or to thank people who are participating on your behalf. You may also create your own personal messages. Your Participant Center provides you with a tool to track who you have e-mailed, who has responded to your messages, and when it's time to follow up. Track your activity from the "Follow-ups" table and check off your To-Dos!
My Progress
How can I see a list of who has donated to my team?
Log in to your Participant Center and click on "My Progress." This is your individual fundraising history, donation trends, and a thermometer that marks your achievements. From "My Progress" you can print a list of your donors for your personal records. Another way to see a list of your donors from your Participant Center is by clicking on "Follow-ups," which also allows you to view the value of donations received. All registered participants will be notified when someone donates online on their behalf. Notification will be sent to the email address we receive for the registrant through their registration process or when they update their profile.
Can I add the checks and cash I have received?
No. You may either mail in the donations to Tisch Brain Tumor Center-Angels, DUMC 3624, Durham, NC 27710, or bring them with you the day of the event to turn in at the Walk Registration tent.