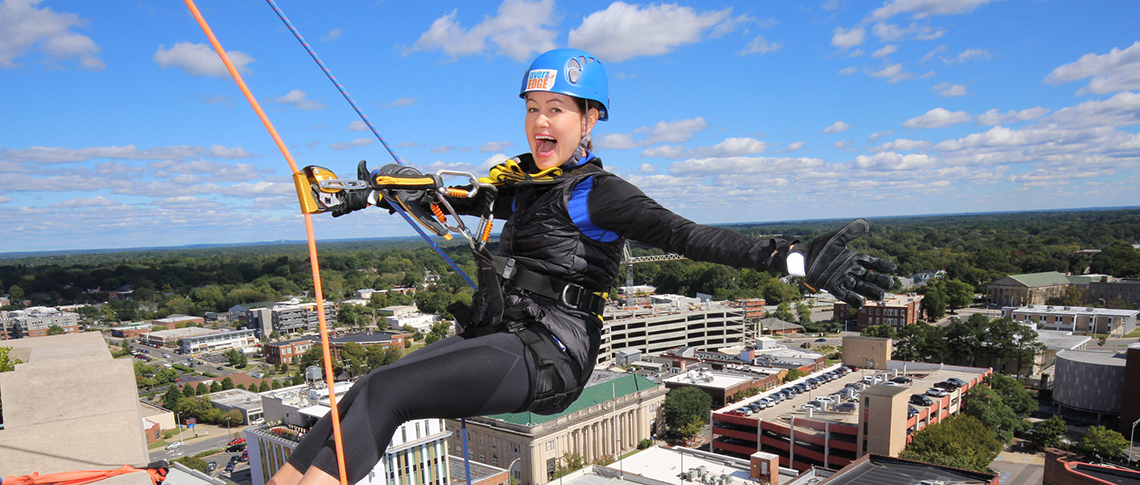 How It Works
Register to Fundraise
Get started fundraising by registering as a rappeler or join a rappelling fundraising team. A personal fundraising page allows you to create and customize a webpage with your own story, photos or video about why you are fundraising to support Duke Children's. Log in to your Fundraising Dashboard to make your fundraising page your own.
You will also hear from us along your fundraising journey to see how we can help you. If you need to contact us with specific questions, please contact us at dukekids@duke.edu.
IMPORTANT PARTICIPATION INFORMATION
Please note: All participants must be 18 years of age or older. All minors participating in the cheering zone must be accompanied by a parent or guardian. In order to participate you must raise at least $1,000 or pay the difference by the Sunday before the event at 11:59pm. If the $1,000 minimum is not met, the funds are considered a direct donation to Duke Children's with no refunds being provided.
Over the Edge registration time is not the same as Over the Edge rappel time, we encourage you to plan accordingly. The Over the Edge experience can take between an hour and a half to two hours from registration to exit. We will be in contact closer to the event with logistics around check in and parking.
Spread the Word
Watch your progress grow and exceed your goals to support Duke Children's! Once you meet the minimum $1,000 fundraising goal, you will qualify to rappel during Over the Edge on April 22, 2023. You will receive additional information about how to sign-up for your rappel time slot.
Saying thank you to those who support you is important! Login and visit your Fundraising Dashboard to see a list of donors and send customized thank you notes. All of your donors will also receive a tax receipt from Duke.
Engage Your Social Network
Personal outreach and social media are the keys to success in connecting with your friends and family to support your fundraiser for Over the Edge. You can make direct asks through email, text, social media posts and DMs.
To help you be successful, we have provided downloadable content for you to use – from cover photos and shareable images to a fundraiser toolkit!
Facebook Cover Photos
Click download, then download from Box and upload to your Facebook profile.

Shareables