Each year 10,000 patients, including children and adults, are diagnosed with all types of sarcomas. Sarcoma refers to a type of cancer that affects the bone or soft tissue and can be found in any area of the body. It is one of the more common types of cancer that affects children and makes up for 20% of pediatric oncology patients that are treated at Duke. Currently, there is not standard of care and treatment could include surgery, radiation, and chemotherapy.
The Duke Multidisciplinary Sarcoma Team is an integrated team of health care providers who work together to provide high- qualtity and coordinated care. This team works to provide innovative treatment and was recently designated the Duke Sarcoma Center, a center of excellenece for sarcoma research.
In 2008, the Duke Multidisciplinary Sarcoma Program held its first Sarcoma 5K Run/ Walk event at Duke University to honor and celebrate whose who have been affected by sarcoma.
On September 10th, the Duke Multidiscplinary Sarcoma Team will host its 15th Annual Strike Out for Sarcoma.
For race day details, see below:


Entry Fees:
Run/ Walk Pre-Registration: $35.00
Run/ Walk Registration after 5pm September 9th: $40.00
Kid Dash Pre-Registration: $15.00

Kid Dash Registration after 5pm September 9th: $20.00
*Entry fee includes T-shirt for adults, 5K timing chips, and post race refreshments. Children registered for the Kid Dash will receive a t-shirt.
To ensure a t-shirt please register before 5 PM on August 18, 2023.
Packet Pickup:
Race packets can be picked up Saturday, September 9th from 9 AM to 11 AM at Fleet Feet in Durham, NC. Packet pickup will also be available the morning of the race onsite at WakeMed Soccer Park.

Fleet Feet
737 9th St.
Durham, NC
5K Course Location:
Race Day Schedule:
7:00 AM Registration and Packet Pickup
8:30 AM Opening Ceremony
8:35 AM Patient Spearker
8:40 AM Survivor Walk
9:00 AM Zumba Warm Up
9:15 AM 5K Run and Family Fun Walk
10:15 AM Kids Dash
10:35 AM Awards Ceremony
10:45 AM Closing Ceremony
11:00 AM Yoga Cool Down
Course Map: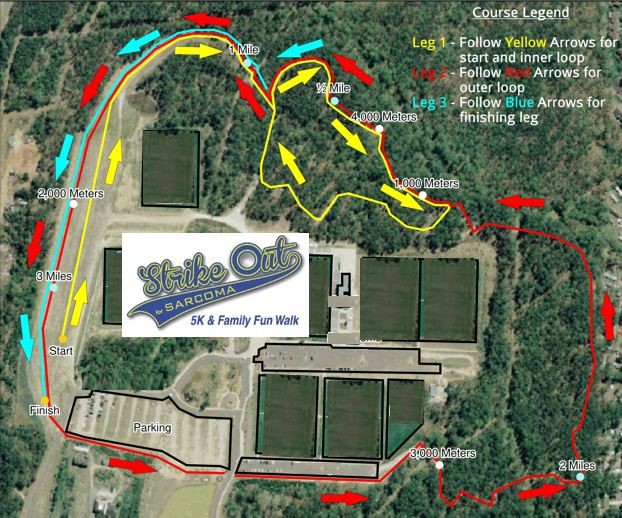 Post-Race Celebration
We invite you to join us for post-race refreshments and family fun. There will be a silent auction, kid's corner with games, crafts, a bounce house, and much more!



A survivor walk and an awards ceremony will be held as soon as scoring result are available the morning of the race.
100 Yard Kids Dash
Children under 12 years old can participate in the 14th Annual "Strike Out for Sarcoma Kids Dash."
For those interested in sponsoring a Mile marker sign, see information below:
Mile Marker Sign: $250.00
Sponsor a mile marker sign- choose the mile marker location where you want your sign located on the 5K course

(1/2M, 1M, 1 1/2M, 2M, etc.)
Signs must be at least 22 in X 28 in
Option 1
-Signs can be made by your team/ family and can include pictures, drawings, a message, etc. and can be decorated to your liking. If you choose to make your sign, please arrive on race day by 8AM in order to place the sign near the mile marker you have chosen.
Options 2
- Sign can be provided by Strike Out Sarcoma group- wording of your choice and no picture included.