We Need You!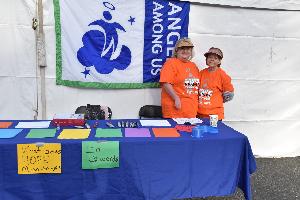 Volunteers are critical to the success of Angels Among Us 5K & Walk of HOPE. Join the more than 200 volunteers who donate their time and talent to help in the fight against brain tumors.
Planning Committee: If your schedule is flexible consider joining our Planning Committee who creates new activities and discusses ways to improve the event. This volunteer leadership group meets five times a year and plays a key leadership role on race day. If you are interested in joining this dedicated group of volunteers, please contact us for more information.
Event Day Volunteer: Help is also needed on the day of the event and there are a variety of roles that need to be filled. Check out our volunteer duties listed below to see how you (and your friends and family) can help. Take this opportunity now to complete our volunteer registration. Once we receive your application our volunteer coordinator will contact you with more details.
Volunteer Check-in
Check in other volunteers, give them their assignments, and hand out volunteer shirts.
Lawn Signs
Place in-honor-of yard signs along the 5K course.
Signage & Banners
Place directional signs around the Duke Hospital parking lots and assist with hanging banners on the event tents.
Welcome Tent & Greeters
Greet attendees, answer questions, and direct people to the Walk of HOPE registration and 5K check-in tents. Distribute logistical maps to visitors.
5K Check-in & Registration
Set up the 5K registration and check-in area, collect new participant registration fees, cheer the runners on as they cross the finish line, and help distribute the 5K awards.
5K Race Course Sweeper
Play an integral role in the event by being the last one to finish the race! Make sure that everyone who is running the 5K finishes the race and offer encouragement to the runners.
Walk of HOPE Registration
Register walkers for the event, collect team donations, answer questions, and provide directions as needed.
First-Aid Tent
Assist EMS with ice, band-aids, and other medical needs.
Water Stations
Keep our 5K participants hydrated! Provide water to our runners before and after the race and then serve drinks to all attendees.
T-Shirts
Set up the T-Shirt tent and give out event shirts to registered participants.
Photo Booth
Smile! Help our guests take candid photos using inspirational props.
KidZone
Set up and supervise crafts and activities for our little guests. Monitor each inflatable bounce house and check to make sure children are in a safe space to play.
Team Photos
Check in teams who pre-registered for their team picture, schedule time for new team photos, organize where the teams will wait, and assist the teams onto the bleachers for their photos.
Silent Auction
The online auction begins a few days before the event. Volunteers are needed on the day of to help display the merchandise in the silent auction tent. After the online auction closes, volunteers will help the winners collect their items.
Garden Walk
Guide participants along the route path through the Sara P. Duke Gardens.
Children's Prizes
Hand out ribbons and award redemption tickets to children who complete the Walk of HOPE or who participate in the Kids' Dash.
Survivor Tent
Help survivors sign in, hand out stickers, T-shirts, bandanas, coordinate photos, and give Walk of HOPE instructions.
Thank you—we could not succeed without your help!