It takes a lot of people doing a little bit to make great things happen!
–Angels Motto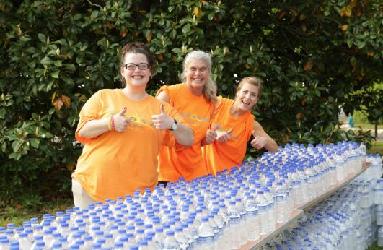 Volunteers:
WE NEED YOU! Volunteers are critical to the success of Angels Among Us and as the Angels motto states— it does takes a lot of people to make it happen! You can be one of those people. Review the "Volunteer Duties" below to find the volunteer position that will make you feel special in the fight against brain cancer. Once you determine how you'd like to help on event day, please fill out the volunteer sign up form. Our volunteer coordinator will contact you with the place and time. Thank you for helping us!
Volunteer Duties:
Set-up Crew - 5:30 am
Help with unloading and placing boxes and supplies in the tents in preparation for the event. Organize tables in the tents and place tablecloths on the tables. Assist as necessary in setting up the event.
Volunteer Check-in
Volunteers are needed to assist at the volunteer tent. These volunteers will check- in other volunteers, give them their assignments, and hand out volunteer vests according to a master list.
Signage & Banners
You will help place signs in the general Duke area to direct people to the event, and help with hanging banners on the event tents.
Welcome Tent & Greeters
As a greeter you will welcome attendees, answer questions, and direct people to the Walk registration and 5K check-in tents. Greeters will have logistic maps to help direct people.
5K Check-in & Registration
Volunteers will assist with set-up of the 5K registration and pre-registered check-in, collect registration fees, help at the 5K finish line, and assist with 5K awards.
Walk Registration
You will handle the event- day registration of participants, collect donations for teams, prepare donations for data entry, and be prepared to answer questions and give directions for the event area.
First Aid Tent
Assist EMS with ice, band-aids, and other needs.
Water Stations and Soda/Drink Tent
At arrival, you will assist with setting up cups of water for the 5K participants before and after the run and then for the event attendees. Soda/drink volunteers will assist with icing down and dispensing drinks to the crowd.
T-Shirts
Volunteers will assist in the set-up of the T-shirt tent and then distribute event T-shirts to registered participants.
Kid Zone
Volunteers will assist with setting up the crafts and games. Volunteers are needed to monitor each Blow-up Jumpy House, supervise the crafts and activities, and monitor the safety of the children participating in the Kids Zone.
Team Photos
Volunteers will check in teams who pre-registered for their team picture, appoint time for teams who did not pre-register for a picture,; organize where the teams will wait, and assist the teams onto the bleachers and off the picture site.
Silent Auction
You will help with setting up tables and auction items and monitor guests as they place their bids. When bidding concludes, you will help with marking the winner on the bid sheets, answer questions about the items, and help distribute items to the purchaser.
Angel Team Registration Tent
Monitor the supplies that the various teams may need and direct them to information or Volunteer Tent for any questions.
Garden Walk
Guide participants along the route path throught the Duke Gardens.
Children's Prizes
5K Run - Hand out finisher ribons.
Walk of Hope - Hand out finisher ribbons and ticket for the children's prize.
Survivor Tent
Help survivors sign in, give out stickers, t-shirts, bandanas, help coordinate photos, and/or give walk instructions.
Planning Committee:
Angels Among Us is a team effort. Our planning committee is devoted to raising awareness and money to help fund research and clinical trials at Duke. We always need dedicated people with new ideas. If you are interested in joining and are committed to an extremely important cause, please contact us!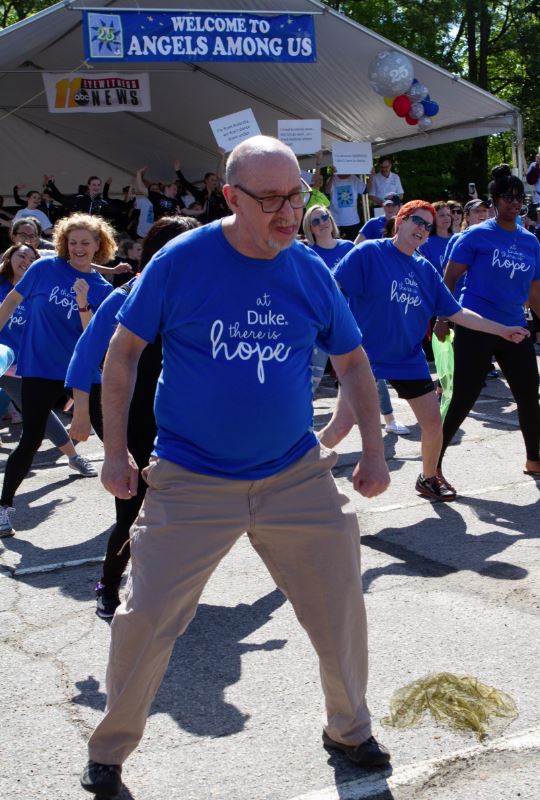 The Brain Tumor Staff at Duke will see you there:
The staff comes together every year to volunteer their time and help with Angels Among Us. Our staff looks forward to sharing in the happiness of the day and showing how much they care. It is so important to the clinic staff to have the opportunity to visit with our patients and their family outside the clinic atmosphere. Joining our clinical staff are many of our researchers who share updates on their work.